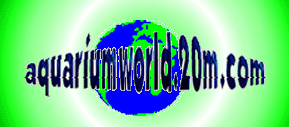 Finally it's here!
aquariumworld.20m.com Wallpaper & Screensaver CD!!!
An exclusive collection of aquarium pictures like you've never seen before, all full size, full color to fit your screen! Quick and easy instructions included.
This makes a great gift for any friend or loved one, any age, all they need is a computer!
CD #1 is a collection of 18 specially chosen pictures, each one in .jpg format for ease of use in any screensaver program that allows for pictures to be imported. If you have no current screensaver or wallpaper program running, it's still as easy as click, click, click to enjoy these incredible pictures anytime you want!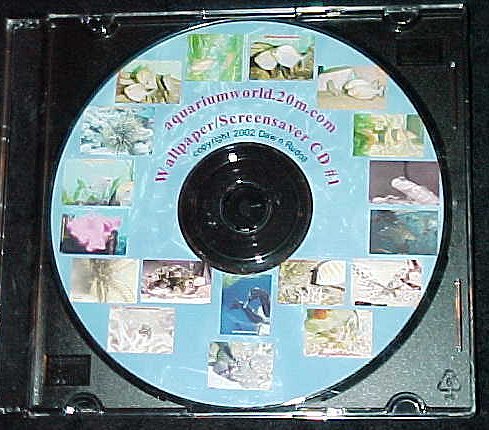 A preview of each picture appears on the label of the cd. (Pictures are much clearer on the cd and on the computer. This is just a snap shot of the cd)
This cd is set up to show a thumbnail preview of each picture, so you know what you want, and where to find it quickly, with no hassle.
Children from 2 to 90 will enjoy these incredible pictures!
This is a one of a kind cd, and this is the only place to get one, so order NOW! Don't miss out!
Quantity is limited, offer stands while supplies last!
Each CD comes in it's own case, with a full color label, and easy to follow instructions!
All for the low price of $6.99 + shipping/handling charges!
Order online or via email, but order NOW!
To order via email, click here
Please put "CD ORDER" in the subject line for the quickest response!
Allow 48 hrs for email responses, please!
Online orders shipped within 24 hrs from the time order is received.
I cannot be held responsible for lost or stolen mail, or misdirected mail due to invalid shipping address. Please check your order carefully before submitting, make sure shipping address is correct. If notified within 1 week of receiving your cd, a replacement cd will be shipped due to cd defects only.
All cd's are packaged in a bubble wrap envelope, to ensure arrival in the best condition. If ordering as a gift, be sure to use recipient's address as the shipping address.
Acceptable payments: Secure Credit Card ordering via PayPal, cashier's check, and/or money order. No cash payments or personal checks accepted!
ORDER VIA EMAIL,CLICK HERE!
Don't forget to include "CD ORDER" in the subject line!